Root Canal Therapy
Almost every individual who has ever paid a visit to the dentist has heard about a procedure called Root Canal Therapy. Most of those patients have even undergone this treatment. But what exactly is Root Canal Therapy, why is it needed and what does it entail?
Before a patient can understand what Root Canal Therapy is, they need to know what root canals are. Hollow channels which reach the central chamber of the tooth down to the very bottom of the root of the tooth are root canals. These channels contain the nerve and blood vessels which keep a tooth alive.
When the nerve tissue contained within the root canals of a tooth is damaged or affected due to a cavity, trauma or any sort of infection, the patient may suffer from a series of uncomfortable symptoms. These symptoms, which include wide-spread pain and discomfort, persistent as a pus-filled abscess on the surface of the gums, discoloration of the affected tooth, prolonged sensitivity to hot or cold sensations or tenderness to touch, are all indications that a patient requires immediate attention of a highly trained Lewisville dentist in root canal therapy. Dr. Daniel in Castle Hills of Lewisville is highly trained in all root canal procedures.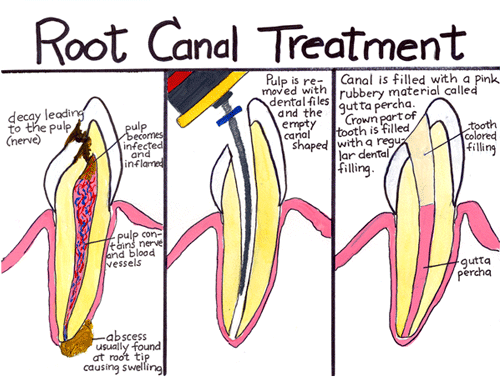 Root Canal Therapy begins after a thorough examination in which the dentist reaches a definitive diagnosis through various tests and radiographs. As this procedure requires the administration of a local anesthetic, it is no more painful than getting a regular filling. Unless the circumstance presents extreme infection and swelling preoperatively, this procedure should be pain free throughout.
The basic procedure involves the breach of the tooth pulp chamber and the removal of the inflamed, infected or deadened nerve tissue inside. Dr. Daniel meticulously and carefully cleans shapes, disinfects and prepares the root canals of the tooth for a permanent filling material known as Gutta Percha with a special sealer.
The standard of care for a tooth following a root canal should be a crown restoration or a "cap" to allow proper functionality of a patient's dentition and prevent leaking, cracking, and breaking of the root canal treatment.
A modern root canal treatment is a very safe procedure which is usually performed over the course of one appointment at D. Dental, depending on the severity of a patient's case. Done effectively, an endodontic procedure such as root canal therapy can allow a patient to maintain their natural and healthy smile.
As with any dental treatment, root canal therapy requires proper care post-procedure, however, due diligence can make the treatment last for a life time.
If you are a patient in need of a dentist in The Colony or Lewisville, and suffering from any of the symptoms indicative of a root canal treatment, or are unsure of your symptoms, we suggest you get a professional opinion from Dr. Daniel in Castle Hills of Lewisville today.
Residents of the Lewisville, TX area can call us for more information, or visit us directly at the D. Dental clinic for a professional consultation.