Lip Repositioning (Gummy Smile)
Do you have a gummy smile and want to get rid of it immediately? D. Dental has some good news for you! Dr. Daniel and his team now provide a Lip Repositioning Procedure that will correct a gummy smile immediately. A gummy smile is the excess amount of Gingival Display, and about 10% of the young adults between the ages of 20 to 35 are affected by this condition. Women are twice as likely to be affected by it as compared to men, and the condition is more common in African Americans. (All surgery cases shown were completed by Dr. Ryan Daniel.)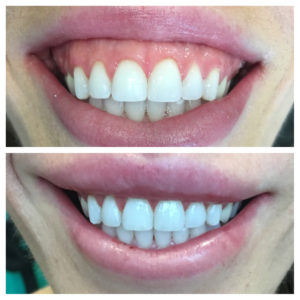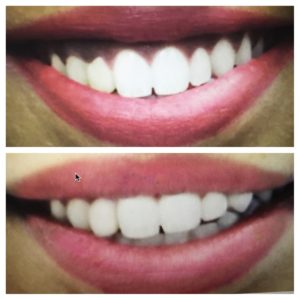 Causes
A gummy smile can be caused by a number of factors. These include:
A hyperactive upper lip
A short upper lip
An excess of the maxillary jaw bone
An excess amount of gum that is covering the teeth
A gummy smile will be diagnosed when 2 to 3 mm or more of the gum is showing upon a full smile. Studies showed that gummy smiles were perceived to be less natural or less attractive.
Correction Method
In order to correct a gummy smile, we start by finding out the root cause of it. In the extreme cases, when the maxillary jaw bone is in excess, an orthognathic surgery may be required. So that the upper jaw can be reset and the excess bone can be removed. In most of these cases, an orthodontic treatment or braces will be used in conjunction to the surgery.
In the cases where the gummy smile is the result of the overgrowth of the gums over one's teeth, the condition can be corrected with the help of a Smile Lift procedure or a gingivectomy. In this, the excess amount of gum is removed so that the natural teeth length can be exposed.
If the gummy smile is the result of a hyperactive upper lip, then botox injections can be given to provide a temporary solution to the issue. However, this treatment method needs to happen every 4 to 6 months for maintenance, due to which the costs increase as well. We have thus come up with a more permanent solution to the problem, i.e. Lip Repositioning Treatment.
Lip Repositioning Treatment
The new procedure corrects a gummy smile that results from a hyperactive lip permanently. It does this with a minimally invasive and short surgical procedure that helps in lowering the upper lip junction to the inside of the mouth. The procedure will take 30 to 45 minutes and the patient will be given local anesthesia before starting. The best part is that the recovery is quick and there will not be any external scarring.
Live in the greater Lewisville area and interested in a lip restoration consultation? Call us today! Dr. Daniel and his team will be more than happy to answer all your questions.