About Us
Dr. Ryan Daniel
Educated from one of the best dental institutions in the country, Dr. Ryan Daniel is a 2007 University of Oklahoma, College of Dentistry graduate with a near 4.0 GPA and Dean's Honor Roll list every semester.
Dr. Daniel has always maintained a passion for dentistry and has current memberships with the American Dental Association, Texas Dental Association, and the American Academy of Cosmetic Dentistry

A sports enthusiast, Dr. Daniel is as passionate about his dental practice as his football. He played Division I college football for four years as a special teams standout and a wide receiver under Bob Stoops at the University of Oklahoma and was also an important member of the 2000 BIG XII Championship and 2000 National Championship teams. Dr. Daniel was also an Academic All BIG XII Selection while playing for the Sooners.
He played in the Independence Bowl, Orange Bowl, and the Cotton Bowl during his playing career. He was a former teammate of the Dallas Cowboys Pro Bowl Safety, Roy Williams.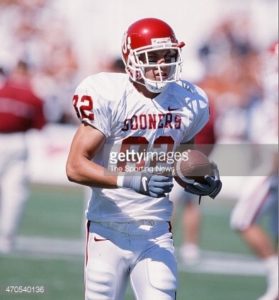 Pursuing his passion for aesthetic dentistry, a cosmetic and general dentist, Dr. Daniel has worked with and learned from some of the most well known and respected names in the dental care industry. Armed with his experience in cosmetic dentistry, combined with an unmatched artistic and aesthetic skill, his top priority is to give you the best smile possible.
He truly believes that creating a smile is a true reflection of who you are, which not only helps achieve your goals but also enhances your teeth and your self-esteem.
Committed to making sure patients have the most beautiful, natural and healthy smiles, Dr. Daniel takes great pride in his attention to detail and use of only the latest dental materials, technologies and procedures to ensure a comforting, and painless experience. His personable approach guarantees stunning, long-lasting and predictable results.
If you would like a complimentary consultation with Dr. Daniel, please give us a call!