Sealants
If you didn't know what dental sealants are, then this is the best place to find out!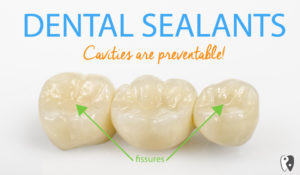 Dental sealants in The Colony can prevent cavities by acting as a barrier to them. These are made of a plastic material that is applied to the chewing surfaces situated on the teeth at the back in most of the cases. These back teeth normally include molars and premolars, and this is where decay is most common.
The Problem With Brushing And Flossing
While constant flossing and brushing will help in removing the plaque and food particles that are present on the smooth surfaces of the teeth, the bristles of the toothbrush will not be able to reach the grooves and depressions where plaque and food can get stuck. This is where sealants placed at our office in Lewisville play a major role by sealing the food and plaque out.
The Truth About Sealants: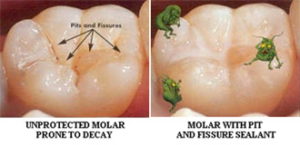 Sealants at D. Dental in Castle Hills are extremely easy to apply. It is painted on the enamel of the tooth where it will bond with the tooth and then harden. The plastic resin will thus bond into the grooves and depressions of the back teeth surfaces where 90% of the chewing takes place. This will act as a barrier and thus protect the enamel from acids and plaque. The surface of the tooth will remain protected against decay, provided the sealant is intact.
Sealants will normally be resistant to the pressures of normal chewing. They may last many years after which a reapplication might become necessary. If you regularly visit us, we will make sure that your sealant conditions are thoroughly checked and that the sealant is reapplied whenever it becomes necessary at no additional charge.
The occurrence of decay in pits and fissures usually happens early on. Therefore, teenagers and children need to be careful. However, adults can also greatly benefit with the application of sealants at our dental office in Lewisville.
Prevention Of Tooth Decay And Maintenance Of A Healthy Mouth
It is important that individuals maintain a healthy mouth and make sure they remain safe from tooth decay. This can be done by taking the following measures:
Brushing two times a day with a fluoride toothpaste that has been accepted by ADA
Cleaning between your teeth on a daily basis using a floss or any other interdental cleaner
Consuming a balanced diet and avoiding snacks
Making sure to visit Dr. Daniel and his team regularly
Have further questions regarding sealants? Why not set up an appointment with our professionals by giving us a call?